Health informatics is a dynamically growing field combining advances in multiple disciplines spanning medicine, health care and policy, computer science, data science, and artificial intelligence. While related to health information management (HIM) and health information technology (Heath IT), health informatics is a separate field with the focus on health information — its generation, processing, and use. Health informatics professionals and researchers analyze, manage, and interpret health data, information, and knowledge through information technology and computational tools, bringing together the worlds of health and technology. Every facet of the information flow is examined, including devices, standards, terminologies, guidelines, knowledge management and end users. Every step of the way, health informatics professionals ask how technology can improve quality of care and reduce cost.
Graduates from our program combine general knowledge and understanding of health informatics with technical skills that allow them to process information, analyze data, and interact with IT systems. In our program, students achieve proficiency in computer and computational skills specifically tailored to medical, health care, and health problems.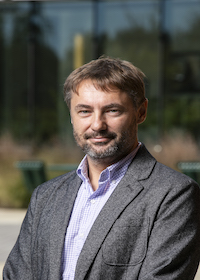 Health informatics is an exciting field that represents the future of health care. It is hard to imagine medicine, patient care, public and population health without the use of data and evidence supported by informatics. Join us as part of undergraduate, graduate or PhD programs or explore cutting-edge research of our faculty and students.
Janusz Wojtusiak, PhD, Director, Programs in Health Informatics
Programs in Health Informatics
Doctoral Degree
---
Provides the interdisciplinary knowledge and skills to creatively research complex health and health system issues. The concentration focuses on research in advanced data analytics and data complexity, as well as information generation, processing, and use for clinical, administrative, and research purposes.
Master's Degree
---
Provides students with the knowledge and skills needed to analyze complex health data, design and support the adoption and use of health information systems for a wide variety of clinical, administrative and research purposes. Students choose between data analytics, informatics management and population health informatics concentrations. An accelerated BS to MS pathway is available.
Graduate Certificate
---
The certificate is intended for clinicians, health care managers, IT professionals, and those changing careers, who want to explore complexities of health data. Students learn how to process and analyze large volumes of complex health care data in the context of real applications.
Bachelor's Degree
---
Prepares students in the field of health informatics, which integrates health sciences, information technology, computer science, data science, and behavioral sciences. The program combines interdisciplinary knowledge from these areas with practical, specialized skills in health informatics to improve patient care, and individual and population health. 
Prepares undergraduate students specializing in the use of technology and information in health care settings. The program covers wide range of topics ranging from healthcare systems to data standards to project management. [The health informatics concentration is no longer active. Undergraduate students, please refer to Bachelor of Science in Health Informatics Program.]
Minor
---
Introduces students to the use of health informatics and information technology tools in the delivery of health care.
Accreditation Information
The Health Informatics accreditor of George Mason University is the Commission on Accreditation for Health Informatics and Information Management Education (CAHIIM). The College's accreditation for Master's degree in Health Informatics has been reaffirmed through 2027. All inquiries about the program's accreditation status should be directed by mail to CAHIIM, 200 East Randolph Street, Suite 5100, Chicago, IL, 60601; by phone at (312) 235-3255; or by email at info@cahiim.org.
Research
George Mason Health informatics faculty and students conduct original research in data analytics, artificial intelligence, EHR systems, data standards & integration, mobile health and privacy & security.
Accreditation
The Master of Science in Health Informatics is fully accredited by the Commission on Accreditation for Health Informatics and Information Management Education (CAHIIM).
Program Outcomes
The following outcomes were measured for MS in Health Informatics in academic year 2021-2022, and measured in spring 2023:
Acceptance rate: 72%

Completion rate: 78% (full-time students), 75% (part-time students)

Employment within one year: 68% employed, 5% pursuing PhD, 32% unknown (no data)

Graduation Rates by Race: 35% Asian, 20% Black or African American, 16% White, 29% Other